Dry Needling and Acupuncture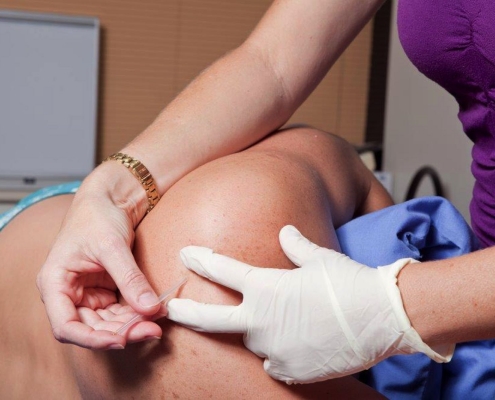 Dry needling has been shown in published clinical trials to be effective at treating a number of musculoskeletal conditions including:
Lower back and neck pain
Headaches and migraines
Muscular pain (including Fibromyalgia)
Shoulder pain and dysfunction
Knee pain (including osteoarthritis)
Tennis/Golfers elbow
Achilles, hamstring, glut and rotator cuff tendinopathies

Temporomandibular

 joint (

TMJ

) pain and dysfunction
Pelvic girdle pain
Chronic pain
Depression and anxiety
Dry Needling and Acupuncture has emerged as a specialty postgraduate skill for physiotherapists in western countries. Our Physiotherapists are particularly suited to perform acupuncture and dry needling as part of their treatment repertoire due to their extensive training in anatomy, pathology, neurophysiology and movement analysis.
Dry needling involves the needling of tissues in order to improve or restore function. This may include needling of myofascial trigger points, the periosteum, tendon threading and needling for gentle sympathetic nervous system stimulation. Dry needling has been found to be as effective treatment modality for conditions involving muscles, connective tissue such as tendons and chronic pain such as central sensitisation of the nervous system.
Western Acupuncture and dry needling techniques are similar, but their rationale and use in treatment are different. At Robina Physio on the Gold Coast we use a western acupuncture approach. This applies a neurophysiological framework to guide our clinical use of acupuncture. This approach has a growing body of medical evidence supporting it and clinically gets excellent results when in the right hands.